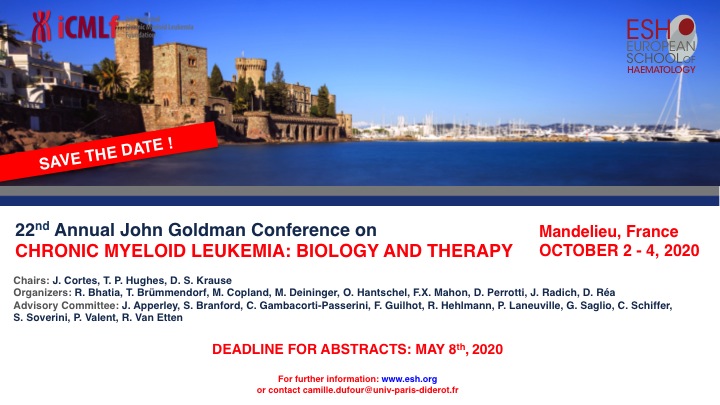 Extended deadline for abstracts for oral and poster presentations:
You can now submit your abstract until May 17th, 2020.
To submit your abstract click here.
Presentation of data at this conference will not jeopardize acceptance of the same at the following ASH congress.
The conference will take place in Mandelieu, France, from October 2-4, 2020
Chairs: J. Cortes, T.P. Hughes, D.S. Krause
The program will include:
2020 iCMLf Prize ceremonies and key lectures

Janet Rowley Prize
John Goldman Prize
iCMLf Prize

Other keynote and special lectures
2020 Saturday Clinical Symposium
Satellite Symposia
Meet the Expert Sessions
Workshops for non-clinical scientists
Brief oral communications selected from submitted abstracts
Clinical and biology Tutored Poster Walks
iCMLf John Goldman Fun Run on Sunday morning
Registration for the meeting is now open. To register click here.
Contact: camille.dufour@univ-paris-diderot.fr