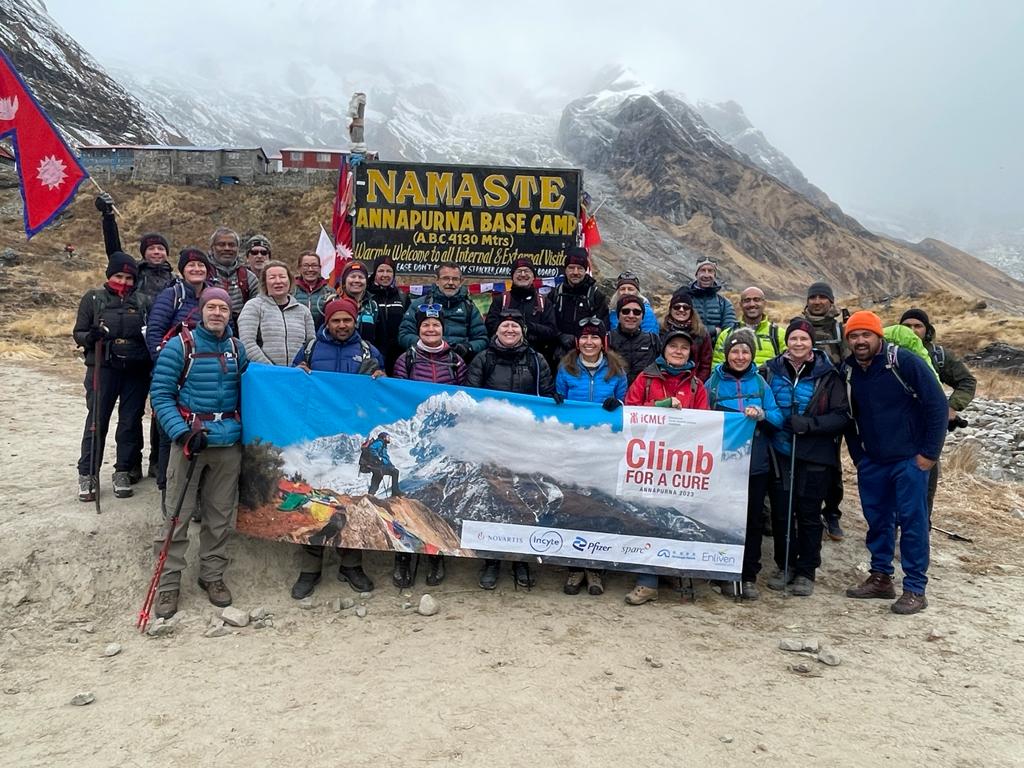 Our biggest fundraising challenge of the calendar has just taken place, with iCMLf Climb for a Cure: Annapurna 2023, which saw 24 scientists, doctors, CML patients and our CEO, Nicola, and Program Manager, Arlene, embarking on this once-in-a-lifetime adventure.
Over the course of 60km, our climbers battled altitude sickness, freezing nights and thousands of stairs as they made their way to Annapurna Base Camp in Nepal, after departing from the bustling city of Kathmandu. They passed charming hillside villages and experienced breathtaking views of Nepal's scenic and historic landscapes. They also witnessed the rich culture of the Gurung (Tamu) people during the challenge.
The ambitious trek, which reached elevations of over 4,100m, is aiming to raise $300,000 to support the research and programs of the International CML Foundation so that we can continue our vital work towards improving outcomes for all CML patients and moving us closer towards finding a cure.
Nicola Evans, Chief Executive at iCMLf, says, "As CEO here at iCMLf, I'm thrilled to not only have had the opportunity to take part in this challenge but also that so many people joined me. We had an incredible group of people taking part from all across the world, with many memories made along the way.
"It's fantastic that the group were so united in making a difference by raising funds so we can continue our work, which includes fostering and coordinating global clinical and research collaborations and improving clinical practice and disease monitoring in CML. A big thank you and well done to everyone who participated in the challenge. Now to start planning the next one!"
A massive thank you also to our generous corporate sponsors including Novartis, Pfizer, Incyte, Sparc, Enliven Therapeutics, and Ascentage Pharma, as well as our fantastic donors.
So far, our climbers have raised $195,000. It's not too late to support the challenge and help us reach our $300,000 target. Please visit https://icmlf-nepal-2023.inadv.com.au/ to donate.