At present we have very limited data on CML patients who have been infected with COVID-19. To gather CML specific information, the iCMLf is collecting details of CML patients diagnosed with COVID-19.
We are collecting both confirmed and suspected cases.

For each CML patient with COVID-19 please complete the iCMLf - CML an COVID-19 Case Collection Form according to your current knowledge.
Download the iCMLf - CML and COVID-19 Case Collection Form here
Please email this to info@cml-foundation.org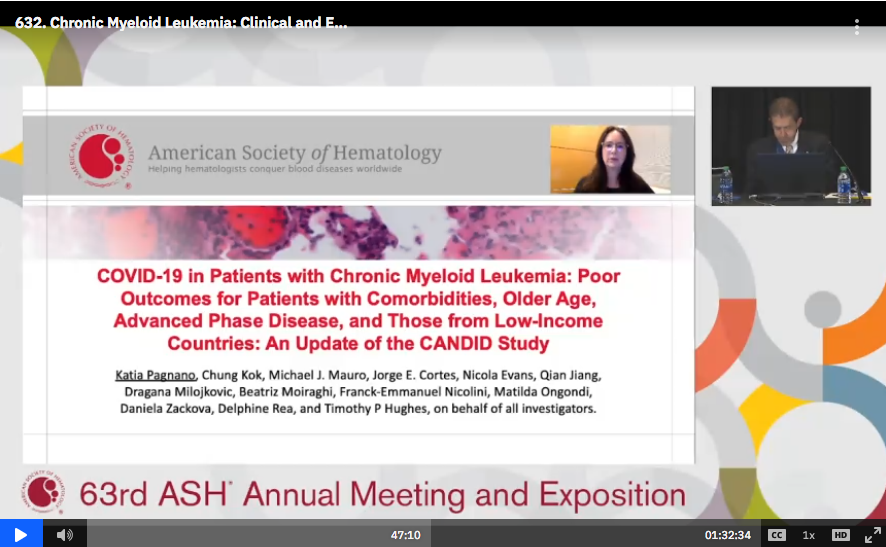 We are delighted that the iCMLf CML and COVID-19 (CANDID data) was presented at the 63rd Annual Meeting of the American Society of Hematology (ASH) 2021. The iCMLf CANDID study represents the largest global cohort study of CML patients with COVID-19 aiming to collect and analyse characteristics of COVID-19 cases among CML patients globally. During ASH, Dr Katia Pagnano presented an update of the CANDID data that explored the impact of various risk factors, such as co-morbidities, age, disease phase, CML treatment and economic status of the country of origin on clinical outcomes.

The CANDID real world data collection with more than 1,000 cases from 59 countries would not have been possible without the 186 physicians who contributed case reports.
We thank everybody for their valuable contributions.
Clinical Case discussion related to COVID-19

Physicians can also post specific patient cases related to the Coronavirus outbreak for advice and discussion on the iCMLf Clinical Case Discussion Forum.
Recent discussions related to COVID-19 and CML can be found here: