iCMLf Forum 2014: Webstreams now available
Webstreams of the presentations from the iCMLf Forum for Physicians from Emerging Regions 2014 are now available to view. Presenters give the local perspectives on each topic followed by the iCMLf experts and discussion with the audience.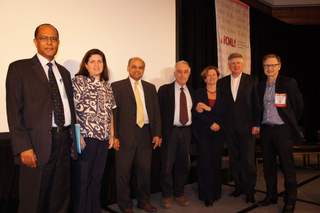 The initial diagnosis and long term monitoring of CML and the tests involved
Dr Amha Gebremedhin (Ethiopia) and Dr Michele Baccarani (Italy)
Considerations when managing pregnancy
Dr Carla Boquimpani (Brazil) and Dr Jane Apperley (UK)
The journey to therapy cessation
Dr Alok Srivastava (India) and Dr Andreas Hochhaus (Germany)
Click on the presentations below to view the webstreams and see the slides.
(We are very grateful for the support of Brandcast media to produce these web streams)
How to diagnose and monitor CML patients. The past, present and future.
My approach in Ethiopia to diagnosing and monitoring CML - blood counts, bone marrow, PCR, FISH. Assessing SOKAL risk. Considerations given to co-morbidities when starting therapy. How patient resources impact treatment.
Dr Amha Gebremedhin
Addis Ababa, Ethiopia
A brief perspective on the optimal tests at diagnosis and for long term monitoring and how these could be prioritised if resources were very limited
Prof. Michele Baccarani
Bologna, Italy
The management of pregnancy in CML
My approach in Brazil to managing pregnancy in CML patients and those who are considering becoming pregnant. How the patient's resources impact the management of pregnancy. Cultural aspects to consider.
Dr Carla Boquimpani
Rio de Janeiro, Brazil
A perspective on the considerations for treating CML patients who are pregnant, or are considering pregnancy and how this approach might be adapted in a more resource limited environment.
Prof. Jane Apperley
London, United Kingdom













Treatment free remission: opportunities and dangers
The situation in India regarding stopping therapy, my perspective and that of my patients. Positive and negative considerations when stopping therapy. How my perspective on stopping therapy is impacted by the resources of my patients.
Prof. Alok Srivastava
Vellore, India

A perspective on stopping therapy - when, why and how
Prof. Andreas Hochhaus
Jena, Germany