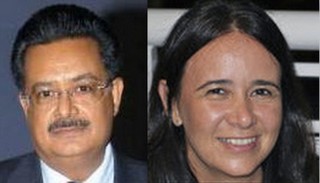 July 2020 - Please join us for the last in our series of conversations with renowned CML experts on managing CML during this pandemic. On July 17th Professor Hemant Malhotra and Dr Katia Pagnano will be sharing their local experiences and perspectives from India and Brazil. We also have the opportunity to recap and answer remaining questions from the first 3 webinar.
What do we know about COVID-19 and CML so far from the real world?
Perspectives from India and Brazil
Professor Hemant Malhotra, Mahatma Gandhi Medical College Hospital, Jaipur (India)
Dr Katia Pagnano, University of Campinas, Sao Paulo (Brazil)
July 17th at 15.00 Central European time (CET)
What will be discussed during the conversation with Professor Malhotra and Dr Pagnano?
During the 45 min webinar we will discuss the following topics:
Current situation with COVID-19 in India/Brazil
Changes in management of patients with CML during the pandemic
CML and COVID-19: local experiences, strategy and specific challenges
Concerns with medicine drug supply during the pandemic
Can I ask questions during the webinar?
An important part of the conversation will be questions from the audience.
You can submit your questions via chat during the webinar and Professor Malhotra and Dr Pagnano will answer as many as possible during the Q&A session.
At what time does the webinar take place in my time zone?
The webinar will be held from 15.00 – 15.45 Central European Time.
Times in other times zones:
ACST – Australian Central Standard Time: 22.30
BRT – Brazilian Time: 10.00
CAT – Central African Time: 15.00
CST – China Standard Time: 21.00
EAT – East Africa Time: 16.00
EST – Eastern Standard Time: 9.00
GMT – Greenwich Mean Time: 14.00
IST – Indian Standard Time: 18.30
Save to your calendar: iCMLf Webinar 4: Conversations on CML & COVID-19
If you click on 'time zone', you should be able to select your local time zone.
How can I dial into the webinar?
Please join this meeting from your computer, tablet or smartphone via the link below:
https://us02web.zoom.us/j/88058192557
Meeting-ID: 880 5819 2557
If you have any questions or need assistance, please email to
stefanie@cml-foundation.org.
I won't be able to attend. Can I watch the webinar at a later time?
All webinars will be made available on the COVID-19 Hub on the iCMLf website after the events.