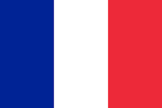 October 2020 - Please join us for an iCMLf Conversation on COVID-19 and CML in French. On September 19th Dr Delphine Réa and Professor Franck-Emmanuel Nicolini from France will be sharing their experience with CML management during the pandemic and local perspectives.
CML management during the COVID-19 pandemic – perspectives from France (in French)
October 19th at 13.00 Central European Time (CET)
Dr Delphine Réa, Hôpital Saint-Louis, Paris (France)
Professor Franck-Emmanuel Nicolini, Centre Hospitalier Universitaire de Lyon (France)
At what time does the webinar take place in my time zone?
The webinar will be held from
7.00 - 7.45: Canada/Eastern Daylight Time (EDT)
8.00 - 8.45: French Guiana Time (GFT)
12.00 - 12.45: West African Time (WAT)
12.00 - 12.45: West European Time (WET)
13.00 - 13.45: Central African Time (CAT)
13.00 - 13.45: Central European Time (CET)
14.00 - 14.45: East African Time (EAT)
18.00 - 18.45: Indochina Time (ICT)
21.30 - 22.15: Australian Standard Time (AST)
Save to your calendar:
How can I dial into the webinar?
Please join this meeting from your computer, tablet or smartphone via the link below:
https://us02web.zoom.us/j/84076893918
Meeting-ID: 840 7689 3918
Can I ask questions during the webinars?
An important part of the conversation will be questions from the audience. You can submit your questions via chat during the webinar and the experts will answer as many as possible during the Q&A session.
I won't be able to attend. Can I watch the webinar at a later time?
The webinar will also be made available on the COVID-19 Hub on the iCMLf website after the event.
If you have any questions or need assistance, please email to
stefanie@cml-foundation.org