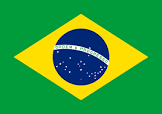 Bem-vinda - Please join us for the first non-English iCMLf Conversation on COVID-19 and CML in Portuguese. On September 11th Dr Katia Pagnano and her colleagues from Brazil will be sharing their experience with CML management during the pandemic and local perspectives.
CML management during the COVID-19 pandemic – perspectives from Brazil (in Portuguese)
September 11th at 8.00 Brazilian Time (BRT)
Dr Katia Pagnano, Universidade de Campinas, São Paulo (Brazil)
Dr Ana Carolina Torelli, Hospital Brigadeiro, São Paulo-SP (Brazil)
Dr Carla Boquimpani, Instituto Estadual de Hematologica Arthur de Sigueira Cavalcanti, Rio de Janeiro (Brazil)
What will be discussed during the conversation?
During the 45 min webinar we will discuss the following topics:
Ana Carolina Torelli - 10 min
Situação atual da COVID no Brasil
O que sabemos sobre LMC e COVID
Katia Pagnano-10 min
Recomendações para o tratamento da LMC durante a pandemia: tratamento do paciente recém diagnosticado, pacientes em tratamento- necessidade de ajuste de dose/troca/interrupção , considerações sobre TFR durante a pandemia
Carla Boquimpani - 10 min
Recomendações para o tratamento do paciente com LMC e COVID: no recém diagnosticado, necessidade de ajuste de dose/troca/interrupção durante a COVID, interações dos TKI com outras drogas
Perspectivas futuras: vacinas, tratamentos
Discussion-15 min

Can I ask questions during the webinar?
An important part of each conversation will be questions from the audience. You can submit your questions via chat during the webinar and the experts will answer your questions during a Q&A session.
At what time does the webinar take place in my time zone?
The webinar will be held from
8.00 – 8.45 Brazilian Time (BRT)
13.00 – 13.45 Central European Time (CET)
Save to your calendar:
How can I dial into the webinar?
Please join this meeting from your computer, tablet or smartphone via the link below:
https://us02web.zoom.us/j/88061143190
Meeting-ID: 880 6114 3190
If you have any questions or need assistance, please email to
stefanie@cml-foundation.org.
I won't be able to attend. Can I watch the webinar at a later time?
The webinar will also be made available on the COVID-19 Hub on the iCMLf website after the event.