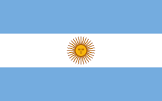 October 2020 - Please join us for an iCMLf Conversation on COVID-19 and CML in Spanish. On October 28th Dr Carolina Pavlovsky from Argentina and her colleagues will be sharing their experience with CML management during the pandemic and local perspectives.
CML management during the COVID-19 pandemic – perspectives from Argentina and Columbia (in Spanish)
October 28th at 13.00 Central European Time (CET) / 9.00 Argentinian Time

Dr Carolina Pavlovsky, Fundaleu Hospital and Clinical Research Center Buenos Aires (Argentina)
Dr Beatriz Moiraghi, Hospital Ramos Mejía, Buenos Aires (Argentina)
Dr Virginia Abello Polo, Clínica del Country / Fundación Universitaria, Bogotá (Colombia)
What will be discussed during the webinar?
9.00 hs Bienvenida
9.05 hs COVID-19: Situación actual en Argentina (Carolina Pavlovsky)
9.15 hs COVID-19: Situación actual en Colombia (Virginia Abello)
9.25 hs Recomendaciones para el tratamiento de los pacientes con LMC y COVID-19 (Carolina Pavlovsky / Beatriz Moiraghi)
9.40 hs Q&A Moderadora Beatriz Moiraghi
At what time does the webinar take place in my time zone?
The webinar will be held from
6.00 - 6.45: Guatemala / El Salvador / Costa Rica / Nicaragua
7.00 - 7.45: Colombia / Peru / Ecuador / Panama
8.00 8.45: Bolivia / Venezuela
9.00 - 9.45: Argentina/Chile/Paraguay/Uruguay
13.00 - 13.45: Central European Time (CET)
Save to your calendar:
How can I dial into the webinar?
Please join this meeting from your computer, tablet or smartphone via the link below:
https://us02web.zoom.us/j/86964548266
Meeting-ID: 869 6454 8266
Can I ask questions during the webinars?
An important part of the conversation will be questions from the audience. You can submit your questions via chat during the webinar and the experts will answer as many as possible during the Q&A session.
I won't be able to attend. Can I watch the webinar at a later time?
The webinar will also be made available on the COVID-19 Hub on the iCMLf website after the event.
If you have any questions or need assistance, please email to
stefanie@cml-foundation.org