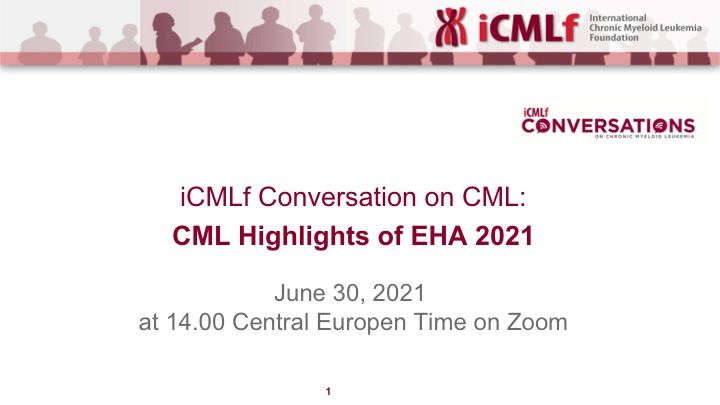 June 2021 - The next highlight in our series of iCMLf Conversations is coming up. Join us to discuss CML highlights from the recent EHA virtual congress during an iCMLf Conversation on Wednesday, June 30th at 14.00 Central European Time.

Professor Rüdiger Hehlmann and Dr Ilaria Pagani will provide an overview of the significant clinical and biological aspects presented during the meeting.
Don't miss this opportunity and join the live webinar.
CML Highlights of EHA 2021 – Biological and clinical overview
Wednesday, June 30th at 14.00 Central European Time
Join our two experts as they discuss key aspects of the CML presentations:
Clinical overview:

Professor Rüdiger Hehlmann,
Founder and Chair of the European LeukemiaNet / ELN Foundation and former Head of the Department of Medicine at the University of Mannheim (Germany)

Biological overview:

Dr Ilaria Pagani, Affiliate Senior Lecturer University of Adelaide/SAHMRI (Australia)
Date: June 30th at 14.00 Central European Time (CET)
How can I dial into the webinar?
Please join this meeting from your computer, tablet or smartphone via the link: https://us02web.zoom.us/j/85102369704
Meeting-ID: 851 0236 9704
Save to your calendar:
At what time does the webinar take place in my time zone?
The webinar will be held from 14.00 – 14.45 Central European Time.
Times in other times zones:
ACST – Australian Central Standard Time: 21.30
BRT – Brazilian Time: 09.00
CAT – Central African Time: 14.00
CST – China Standard Time: 20.00
EAT – East Africa Time: 15.00
EST – Eastern Standard Time: 08.00
GMT – Greenwich Mean Time: 13.00
IST – Indian Standard Time: 17.30
If you have any questions or need assistance, please email to
stefanie@cml-foundation.org.