There are only a few months left until an annual highlight in our CML meeting calendar. And this time we are meeting in person again!
You can now register for the 24th Annual John Goldman Conference on CML that will take place in Mandelieu La-Napoule in France from October 21-23, 2022.
Once again, you can expect a comprehensive scientific programme with many highlights from the biology and therapy of CML.
Learn more...
Register now and mark your calendar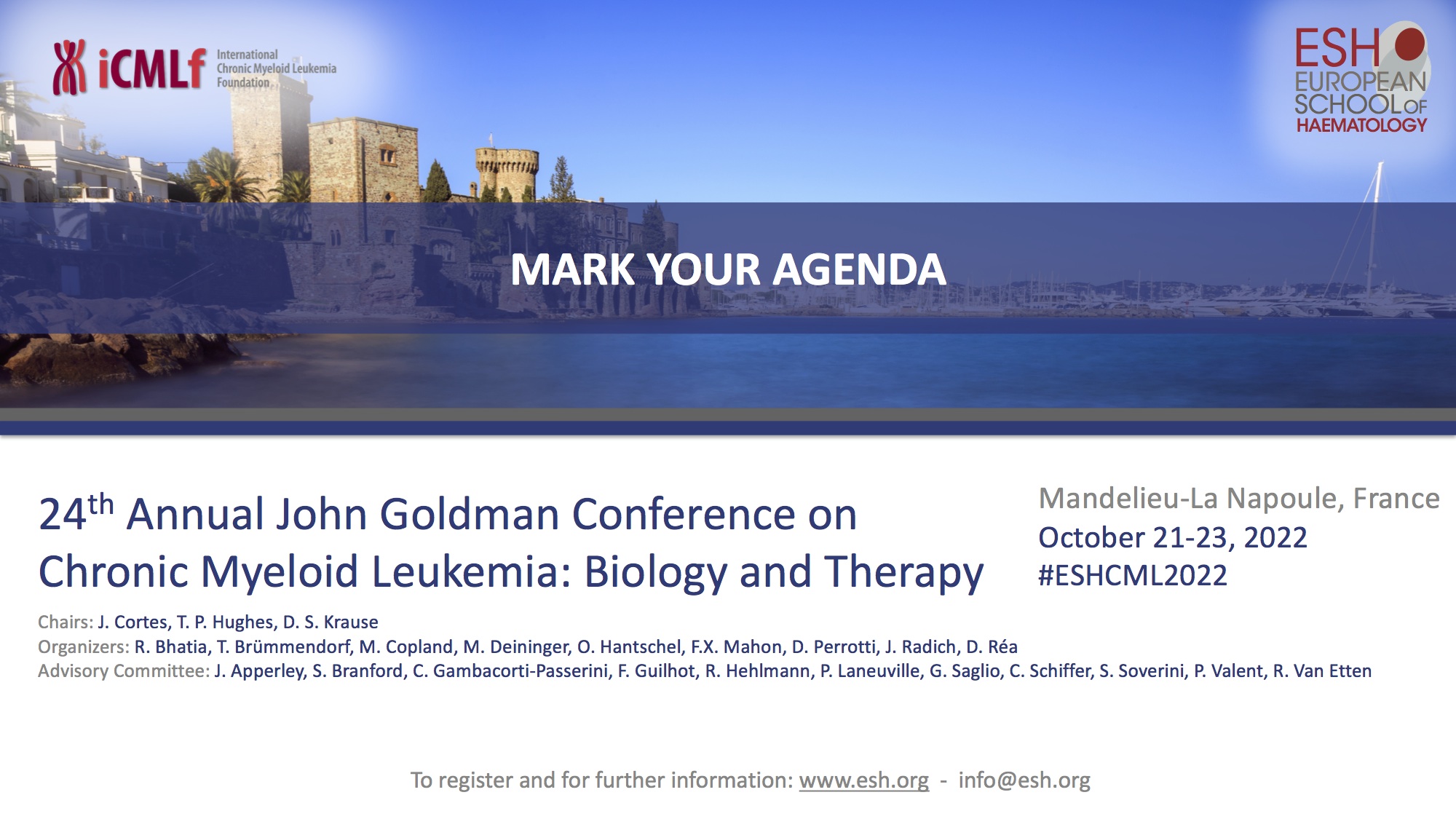 We are looking forward to welcoming you face-to-face at the conference!
Strong basic and clinical science in CML
Speakers at this meeting will present new and often unpublished data related to the biology of CML and aspects of CML therapy to facilitate exchange between basic scientists, translational researchers and clinicians.
Program highlights include:
Workshop for Non-Clinical Scientists #1
Oncology/Hematology degraders - Degradation as a strategy against cancer
Chairs: Oliver Hantschel (Marburg), Vignir Helgason (Glasgow)

Workshop for Non-Clinical Scientists #2
3D Genomics and nuclear organization
Chairs: Michael Deininger (Milwaukee), Jerry Radich (Seattle)
Speakers: Steven Eacker (Seattle), Aristotelis Tsirigos (New York), Greg Wang (Chapel Hill)

Michele Baccarani Special Symposium
Collaborative research in CML
Chair: Giuseppe Saglio (Turin)

Debate #1
What is most important for CML persistence of the disease? Extrinsic factors or intrinsic factors?
Chair: Ravi Bhatia (Birmingham)

Debate #2
Is ponatinib still the drug of choice for 3rd line therapy?
Chair: Tim P. Hughes (Adelaide)
Meet the Expert Sessions
Understanding Biology of Leukemia / Practical implication of multimix approaches in leukemia – Charles Mullighan (Memphis)
Leukemic stem cell biology – Andreas Trumpp (Heidelberg)
New frontiers in drug development in cancer – Stefan Knapp (Frankfurt)
Management of advance stage CML – Maihri Copland (Glasgow)
Challenging scenarios for TFR – Susanne Saussele (Mannheim)
Management of TKI adverse event – Jeff Lipton (Toronto)
iCMLf Prize Presentations
We look forward to recognising the iCMLf Prizes winners from the last three years during prize ceremonies.
This year's award winners will give personal insights into their scientific, clinical and patient advocacy work during keynote speeches. An opportunity not to miss!
John Goldman Charity Fun on Sunday morning
In good old tradition, we will meet again on Sunday morning at 7.00 a.m. before the start of the scientific programme for the 5-km John Goldman Charity Fun Run.
For those who won't be there in person, there will be an additional virtual run this year. Stay tuned and we will share more information soon.