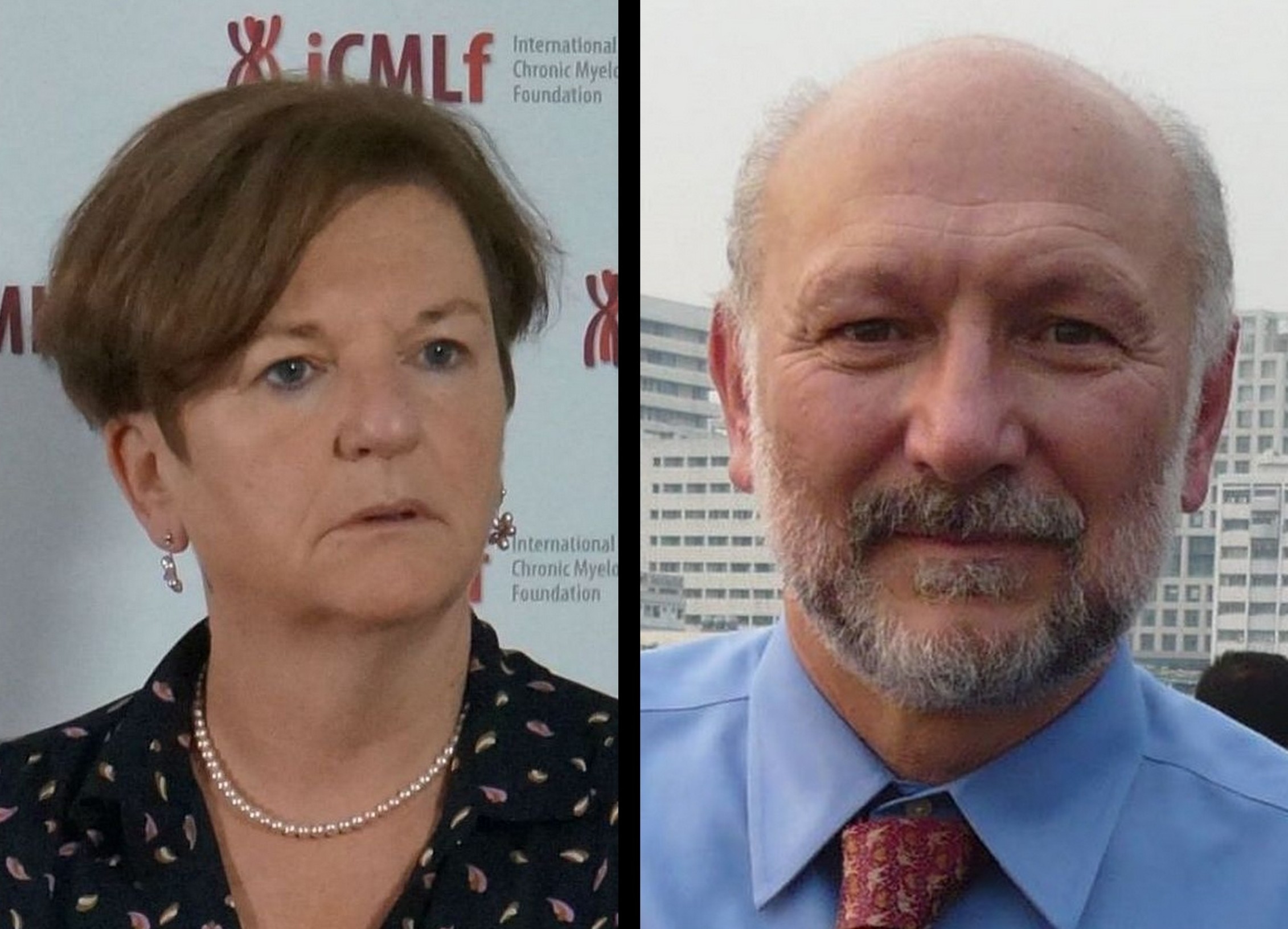 August 2022 - It is more important then ever to facilitate dialogue among physicians treating people with CML around the globe and especially to provide physicians from low and middle-income countries with an opportunity to meet with the iCMLf experts and to discuss their specific challenges of CML management.
Therefore, we will bring two renowned CML experts to you for an online discussion! After last year's great success, our September iCMLf Conversation is a virtual Meet-the-Expert Q&A session – this time with Professors Jane Apperley (UK) and Giuseppe Saglio (Italy).
Don't miss this unique opportunity to discuss your difficult cases and all your questions around CML management with our two experts. Save 2pm CEST September 21st 2022 to your calendar for this iCMLf Conversation and submit your questions to the panel of CML experts. Questions can be submitted in advance to info@cml-foundation.org
Also, don't forget to join us on August 24th at 2pm CEST for the discussion about current practices for third-line management of CML with Professor Andreas Hochhaus.
You are invited to an iCMLf Conversation - Meet-the-CML Expert

Date: September 21st at 14.00 Central European Summer Time (CEST)
You will have the chance to discuss your questions on CML management, therapies, research and future directions during a 45-min Q&A Session with renowned CML experts.
You can submit your questions and cases even before the meeting by emailing info@cml-foundation.org. Specific cases may be discussed if submitted by September 14th.

Panel of experts:
Professor Jane Apperley, Imperial College, London (UK)
Professor Giuseppe Saglio, University of Turin (Italy)
How can I dial into the webinar?
Please join this meeting from your computer, tablet or smartphone via the link: https://us02web.zoom.us/j/83643569835
Meeting-ID: 836 4356 9835
Save to your calendar:
At what time does the webinar take place in my time zone?
The webinar will be held from 14.00 – 14.45 Central European Summer Time.
Times in other times zones:
ACST – Australian Central Standard Time: 21.30
BRT – Brazilian Time: 9.00
CAT – Central African Time: 14.00
CST – China Standard Time: 20.00
EAT – East Africa Time: 15.00
EST – Eastern Daylight Time: 8:00
GMT – Greenwich Mean Time: 13:00
IST – Indian Standard Time: 17.30
We hope to see you at the iCMLf Conversation – 'Meet the CML Experts' and look forward to receiving your questions.