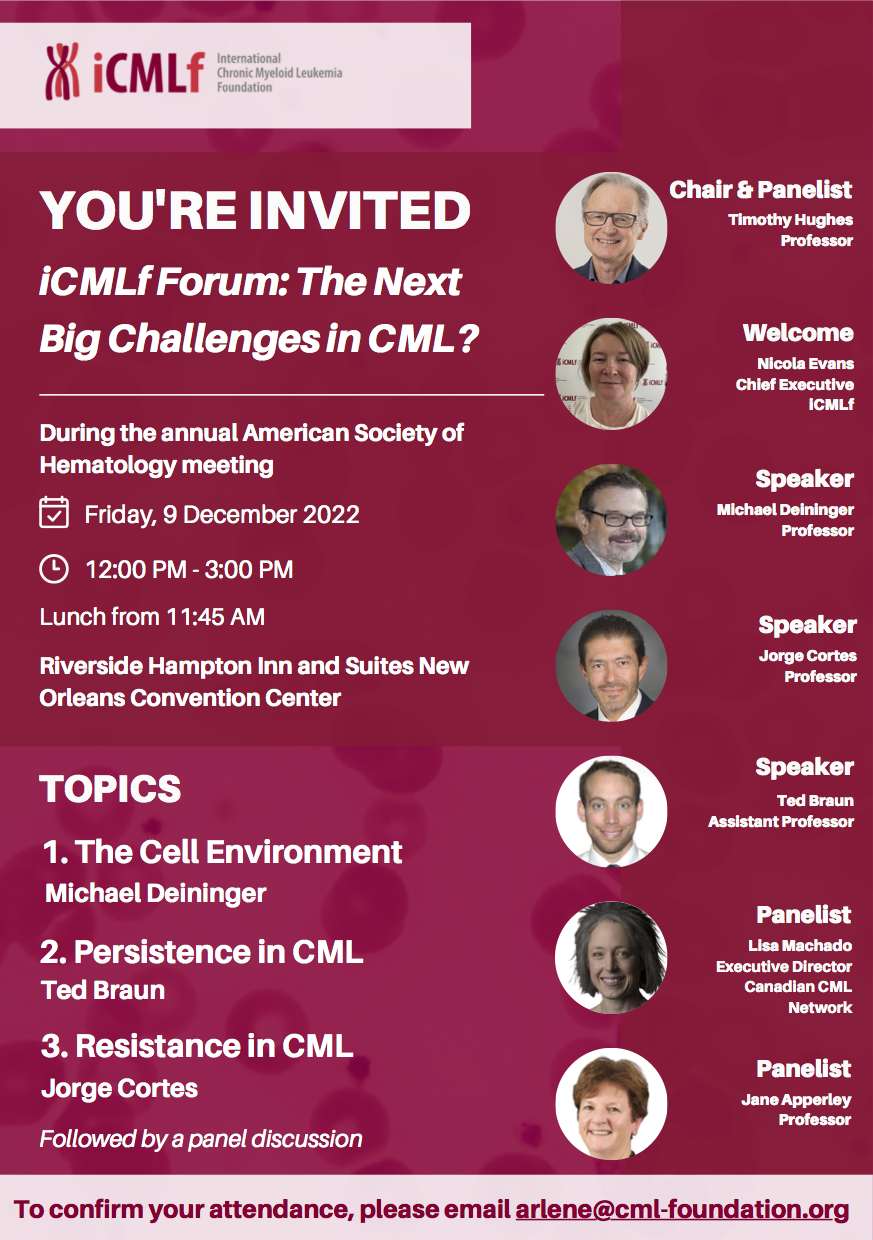 November 2022 - What are the next big challenges in CML? What are the most promising new approaches? What brings us closer to a cure for CML? These are challenging questions and finding a cure for CML is complex. However, we want to address exactly this.
Do you want to help shape the discussion? Then join our speakers and panellists of renowned CML experts for the iCMLf Forum at ASH on December 9th. Details of the program can be found below. Please register ASAP by emailing arlene@cml-foundation.org as we do need to confirm numbers this week.
Even if you cannot attend the meeting in person you can still help. Participate in the survey to let us know the research questions you believe need to be answered to move us closer to a cure for CML.
Have a look at the first answers here...
iCMLf Forum – Pre-attendance/Non-attendance Survey
Our question to you: In your opinion what are 2-3 research questions that you think need to be answered to help us move closer to a CML cure over the next 5-10 years?
Here is a snapshot of first survey opinions:
Availability of standardized PCR testing in all centres in a country /
Availability of potent 2nd generation TKI over the globe


Detection and characterization of genomic risk factors /
Biomarkers to predict treatment response & successful TFR


Better treatment of CML in blast crisis / Therapy of blast crisis with chemo-free regimens


How can we target CML LSCs? / To eliminate or control the quiescent leukemic cells


How can we improve the diversity of clinical trials?

More to come during (and after) the iCMLf Forum...
You can still participate in the survey

iCMLf Forum: The next big challenges in CML? – Register now to join the discussion
The iCMLf Forum will take place on December 9th from 12.00 pm to 3.00 pm at the New Orleans Convention Centre, in Riverside, Hampton Inn and Suites.
Lunch will be served from 11.45 am.
Topics:
1. Free Treatment or Treatment Free? Where to invest limited resources in a highly manageable cancer
Professor Michael Deininger (Wisconsin, USA)

Registry studies from affluent countries with inclusive health care systems suggest that tyrosine kinase inhibitors (TKIs) have all but eliminated the impact of a CML diagnosis on life expectancy. In contrast, outcomes remain inferior in economically disadvantaged parts of the world and developed countries with deep health care disparities. Extensive research efforts have been aimed at identifying strategies to eliminate residual CML in TKI responders, but clinical implementation is lacking. These developments beg the question of how limited resources should be deployed for the greatest benefit.

2. Disease Persistence in CML: Cell Intrinsic and Extrinsic Mechanisms
Assistant Professor Ted Braun (Portland, USA)

The persistence of CML clones while on TKI is the major clinical issue for the majority of patients with CML. A lifetime of TKI therapy is associated with significant clinical and financial burden. While some individuals can achieve undetectable levels of BCR-ABL1 transcript, discontinue therapy, and remain disease free for years, low levels of disease persist in the majority of patients. The cell intrinsic and extrinsic mechanisms that enable persistence are poorly understood. Recent methodologic developments that enable to study of rare cell populations provide an opportunity to characterize the mechanisms of CML cell persistence in patients on TKI, identifying new targetable mechanisms of persistence.
3. TKI resistance: More than just Abl mutations
Professor Jorge Cortes (Augusta, USA)

Understanding the mechanisms of resistance to tyrosine kinase inhibitors has been valuable in developing new treatment strategies and better managing patients. Much attention has been paid to the development of kinase domain mutations as THE mechanism of resistance. It is however clear that not all patients who develop resistance have detectable mutations. New data is emerging and old data re-emerging to understand resistance more broadly. Broader, large-scale efforts are needed, and fortunately some are ongoing, to better understand how resistance develops and how to address it.
If you have not registered yet, please sign up ASAP up by emailing arlene@cml-foundation.org

See you at the iCMLf Forum!