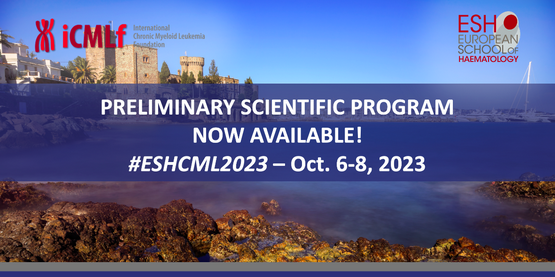 September 2023 - There is only one month until the 2023 Annual John Goldman Conference on CML: Biology and Therapy – jointly organized by the European School of Haematology (ESH) and the International CML Foundation (iCMLf.) And we hope to see you there!

From October 6-8, 2023 experts in CML research and practice from all over the world will come together in Mandelieu La-Napoule in France to hear about the latest basic, translational and clinical research in CML.
Today we share just some of the highlights of the scientific program with you.

We are looking forward to welcoming you at the conference.
Highlights of the program – CML science meets CML practice
Speakers at this meeting will present new and often unpublished data related to the biology and therapy of CML. The open interaction format provides an excellent forum for collaboration and open discussion between scientists and clinicians.

Program highlights include:
Scientific Sessions:
Top Scoring Abstracts 2023
– Chairs: Ilaria Pagani (Adelaide) & Tim Brümmendorf (Aachen)
Stem cells – Chair: Daniela Krause (Frankfurt)
Mechanisms of resistance and new targets – Chair: Helong Zhao (Milwaukee)
Biomarkers – Chair: Vivian Oehler (Seattle)
Treatment-free remission – Chair: Susanne Saussele (Mannheim)
Treatment-free remission: why and why not – Chair: Ehab Atallah (Milwaukee)
Long-term outcomes and safety – Chair: Michael Mauro (New York)
Predictive models and markers – Chair: Timothy Hughes (Adelaide)
Workshops for Non-Clinical Scientists:
Workshop #1: Imaging
Chairs: Ravi Bhatia (Birmingham) & Daniela Krause (Frankfurt)
Workshop #2: Single Cell analysis
Chairs: Mhairi Copland (Glasgow), Sin Tiong Ong (Singapore)
Debate:
Debate: Genomic screening is essential prior to frontline therapy?
Chair: Pierre Laneuville (Montreal)
Not yet: Jane Apperley (London)
Pro: Giuseppe Saglio (Turin)
Meet the Expert Sessions:
The pharmaceutics of cell therapy manufacturing – Halvard Boenig (Frankfurt)
Third line approach – Delphine Réa (Paris)
Clonal hematopoiesis of indeterminate potential – Steffen Boettcher (Zurich)
Targeting BCL2 family members in myeloid leukemia –
Caroline Heckman (Helsinki)
Identifying and testing people at risk for inherited susceptibility to hematopoietic malignancies – Lucy Godley (Chicago)
General aspects of optimal dosing strategies for TKIs – Jorge Cortes (Augusta)
There are also exciting special lectures, keynote lectures and mentored poster walks.
Download the preliminary program here
Have you already registered for the conference?
If not, register today and mark your calendar.

iCMLf prize presentations – personal perspectives on CML
Don't miss the keynote lectures from this year's iCMLf prize winners who will share personal insights into their scientific and clinical work:
Janet Rowley Prize: CML is still important and relevant – Jerry Radich (Seattle)
John Goldman Prize: From IRIS to SPIRIT towards treatment discontinuation for CML patients – François Guilhot (Poitiers)
iCMLf Prize: Hematology service for CML patients in Ukraine:
challenges and successes – Irina Dyagil (Kviv) & Kostyantyn Kotlyarchuk (Lviv)
We look forward to recognising the 2023 iCMLf Prizes winners during prize ceremonies.
More details in the preliminary program


John Goldman Charity Fun Run – Running together for the good cause
In good old tradition, we will run together on Sunday morning at 7.00 a.m. before the start of the scientific programme for the 5-km John Goldman Charity Fun Run organized by the iCMLf during the conference.

All funds raised support the work of the iCMLf.
Reserve your place at the John Goldman Fun Run
For those who won't be there in person, you can join the virtual run again this year. Stay tuned and we will share more information over the next couple of days.