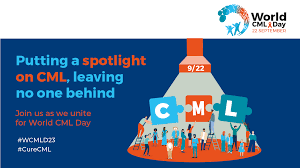 September 2023 - Today on 9/22, the worldwide community unites to celebrate "World CML Day'. This year's theme is 'Putting a spotlight on CML – Leaving no one behind' to ensure that all those living with CML have equal opportunities for early detection, proper diagnosis, and treatment.
This is core to the heart of the Foundation's mission to improve the outcomes for patients with CML globally.
The iCMLf is collaborating closely with local medical associations in low- and middle-income countries to share world-class CML education and best practice for those treating CML. Celebrating World CML Day today, we are very pleased to support three outstanding local scientific webinars on CML for haematologists from leading local centres in Kenya, Bangladesh and Brazil.
1. September 21st in collaboration with the Kenyan Society of Haematology and Oncology (KESHO)
Host: Dr Gloria Omondi, The Mater Hospital, Kenya
Program:
Case presentation
Dr Matilda Ongondi (Kenya)
Cytopenias research findings
Dr Angela McLigeyo (Kenya)
Blast transformation in CML
Dr Annamaria Brioli (Germany)
2. September 22nd - in collaboration with the Haematology Society of Bangladesh
Host: Dr Mohammad Ali, Secretary General of the Haematology Society of Bangladesh
Program:
Monitoring of CML using BCR-ABL1 (IS) and use of domain kinase mutation analysis in changing TKIs
Professor Sue Branford (Australia)
Management of CML cases in pregnancy and planning pregnancy
Professor Michael Mauro (USA)
3. September 28th in collaboration with the State University in Campinas (UNICAMP)

Host: Dr Katia Pagnano, Director of the Oncohematology Laboratory, UNICAMP
Program:
CML therapy in 2023 and future perspectives
Professor Jorge Cortes (USA)


For more information on these webinars, or to register interest in a similar collaboration,
please email info@cml-foundation.org.

Now let's celebrate World CML Day together.

Together we make a difference for patients with CML around the globe.
Putting a spotlight on CML. Leaving no one behind.