Support Andy on his Climb For a Cure journey!
CML patients across the globe can often have their world overshadowed by the challenges of the disease, but in this world emerge individuals whose resilience and spirit shine as beacons of hope. Such as one extraordinary soul, Andy Ojelabi, a courageous CML patient from Nigeria. Andy's story starts in 2015, when life took an unexpected turn upon receiving his devastating diagnosis of CML, which he describes as "the day everything stopped." However, Andy kept moving, and continues to move for all the people in his country living with CML - those who have been diagnosed and the many who can't get a diagnosis.
In 2019, Andy embarked on a courageous journey to the summit of Kilimanjaro with the International CML Foundation, to raise awareness about CML and vital funds for the iCMLf's programs in low and middle income countries. His participation spoke volumes about his spirit and commitment to making a difference, which was noticed not just by his fellow climbers, but the wider CML community.
In November 2023, he's preparing to climb for a second time, up to Annapurna Base Camp, driven by even stronger determination to create change - climbing for those who cannot access timely diagnoses and essential medications in Nigeria. The diagnosis of CML is rare in Nigeria - lack of awareness about the disease leaves countless sufferers without hope. Andy believes that somebody must take the initiative to create change, and he has bravely stepped forward, saying, "it starts with me."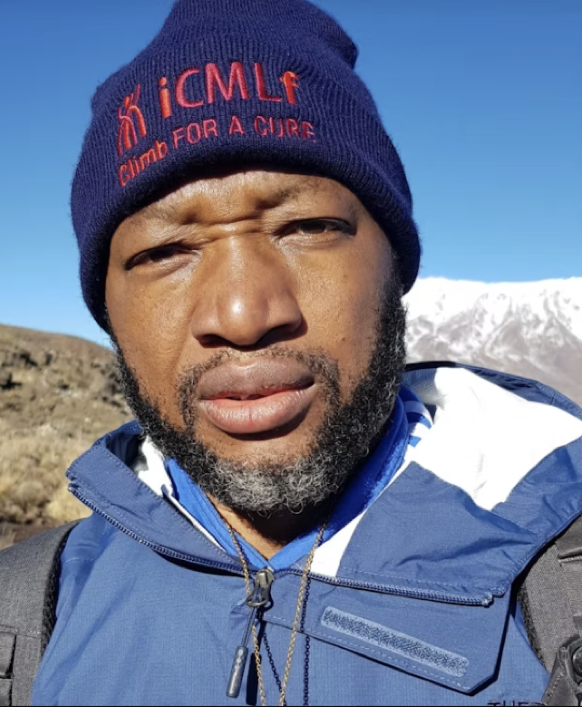 "I pledged to do this for me and for all CML patients in Nigeria. CML is not known in Nigeria, the government doesn't know we exist because this is a rare cancer. What I really want to do is to make a change. It might not be possible in a lifetime but at least I will give it a try. It's better than not trying. From there I'll see what happens" - Andy Ojelabi
Andy's dedication to the cause is nothing short of heroic - funding his own climb and covering travel expenses, all while facing minimal support to reach his fundraising target. This is where you, the iCMLf community, can make a difference. You have the power to support Andy, his journey and future CML patients in Nigeria.
By donating to Andy's climb, we can send a message of solidarity to the people in his country, saying no one should fight this battle alone, and that together, we can make a difference.
Please help show your support to Andy, as he climbs for a cure once again. Your contribution can change the lives of CML patients in Nigeria and ensures Andy's selflessness and dedication receives the resources and support he deserves.