ERSAP Preceptorship Program: 2012 program is now open for applications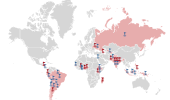 As the final two preceptors in 2011 leave from Brazil and the Ukraine traveling to the Hammersmith Hospital in London, the iCMLf is pleased to announce that the 2012 program is open for applications. The Emerging Regions Support and Partnership (ERSAP) Preceptorship Program is designed for clinicians from emerging economic regions with a specific interest in the treatment of CML and a significant CML patient load. The program enhances clinical knowledge and skills in the treatment of CML through preceptorships at internationally renowned CML centres. The ERSAP Preceptorship Program application form and overview brochure are available for download now. Alternatively contact nicola.evans@cml-foundation.org for further information.
Now in the third year the ERSAP Preceptorship Program is really gaining momentum
We were pleased to add French and Spanish speaking host centres in 2011. With Dr Mahon and Dr Juan Luis Steegmann welcoming preceptors from Senegal, Uruguay and Paraguay. In 2012 we are delighted to include the Fred Hutchison Cancer Research Centre, Seattle and the City of Hope, California as host centres.
As the first project implemented by the iCMLf, it is very pleasing to see how well the ERSAP Preceptorship Program has been received. Feedback from preceptors is consistently positive and testimonials will shortly be published on the iCMLf website.
This program is a unique opportunity for clinicians from developing countries who treat CML patients to undertake an intensive educational program to develop and expand their CML management skills. Please share the information about the ERSAP Preceptorship Program with colleagues who may benefit.
Downloads