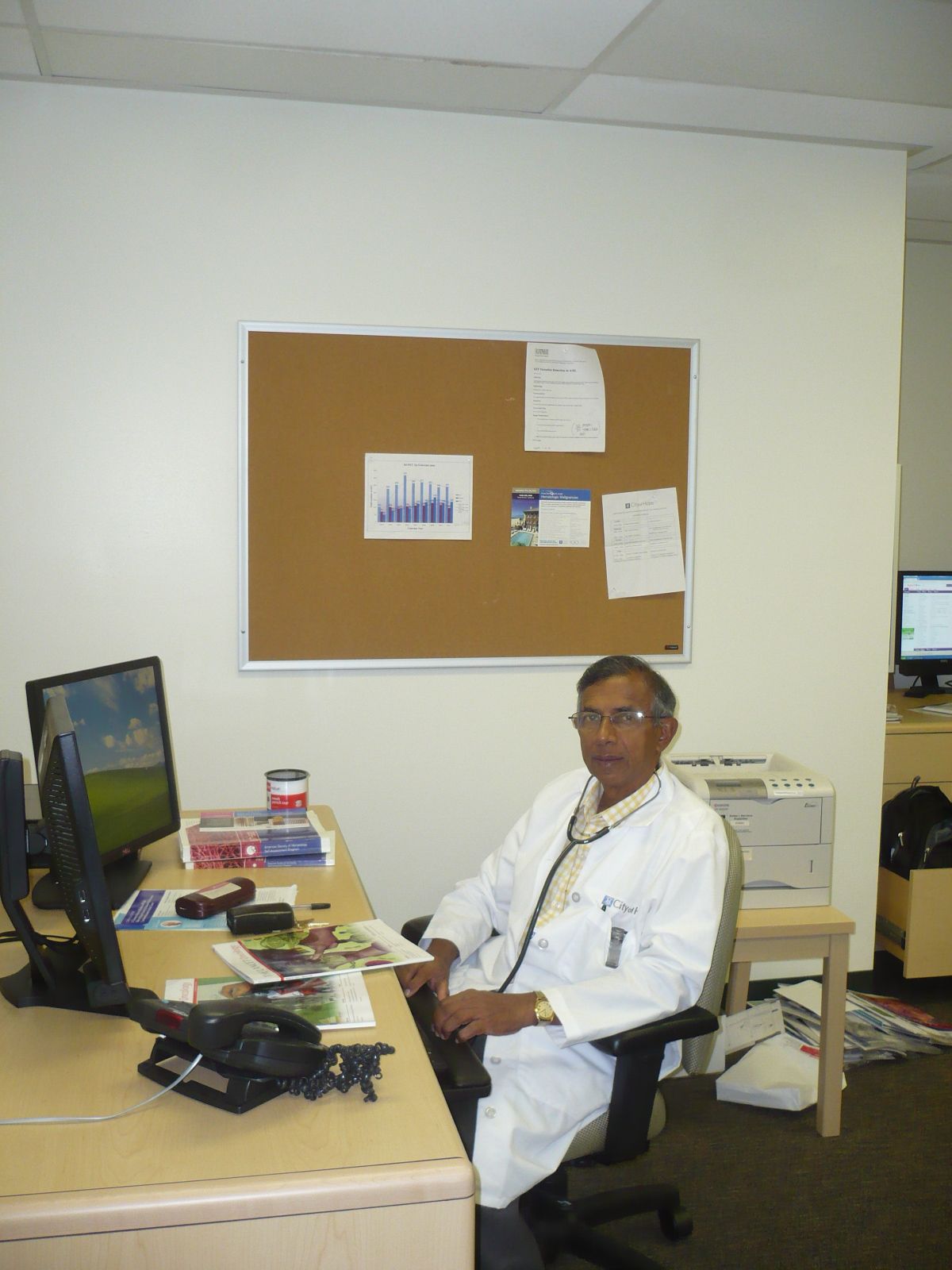 "We now use the terms CHR, CCyR and PCR in our follow-up's, which is a big change" (Dr Sarath Wattegama, Sri Lanka)
Preceptorship at the City of Hope, California (USA)
Dr Wattegama is a clinical oncology consultant working at the Lakeside Adventist Hospital in Kandy, Sri Lanka. Now in his 60s he has been treating patients with CML for over 30 years. He undertook a 4-week clinical preceptorship at the City of Hope in California (USA) under the leadership of Professor David Snyder in June 2013. The City of Hope is an independent cancer research center with one of the largest and most successful transplant programs in the USA.
"When I applied for the iCMLf preceptorship I was hoping that this adult learning program with experienced tutors who share their knowledge with physicians from emerging regions would provide me with the opportunity to develop and enhance my clinical knowledge in the treatment of CML. I have been treating patients with CML for over 30 years know but like in many other emerging countries we face limited health care resources in Sri Lanka that also leads to limited access to diagnostic and monitoring assets in the management of CML. I also thought that a preceptorship course at a Center of Excellence would make me familiar with state-of-the art laboratory equipment and help me to set priorities when embarking to new laboratory facilities in the future. I thought that this kind of practical training would also strengthen my skills in routine applications. A preceptorship at an internationally renowned center for research is also a great opportunity to establish long-lasting research collaborations.
My 4-week preceptorship program at the City of Hope then gave me a lot of confidence in routine applications and in managing side effects of TKI treatment. Now I feel very confident in managing my CML patients with Imatinib and I also have the skills to target the anticipated outcome within the appropriate period of time. This has also helped me to consider second line drugs or dose escalation for some of my CML patients who did not show good hematological response earlier than in the past. As a key learning from my preceptorship at the City of Hope I introduced Nilotinib to a patient who did not achieve a cytogenetic response after 18 months of treatment with Imatinib.


I have advised all my colleagues in my team how to monitor the response to TKI treatment. We now use the terms CHR, CCyR and PCyR in our follow-up notes, which is a big change. All my colleagues have also realized the importance of continuation of TKI treatment even after CCyR. In the past there were concerns about a continuation of TKI treatment after a patient has reached CCyR. Elsewhere in Sri Lanka there are facilities to use q-PCR assay and I am now negotiating with my colleagues in Colombo to help us in using the Gene Xpert System to measure BCR-ABL1 transcript level on some of our longstanding Imatinib users who are in CyR to establish if they are in MR-4 or beyond.


My preceptorship was a well planned, knowledge based program that was executed extremely well. My sincere thanks go to all my friends in the iCMLf for the wonderful work you do"