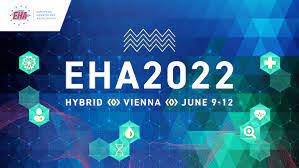 We are at EHA 2022!! - Overview of CML sessions available
It's great to be back in person at the 2022 Congress of the European Hematology Association. The congress is being held as a hybrid meeting in Vienna and online from June 9-17, 2022:
June 9-12: Live streamed program
June 15-17: Virtual thematic days
To help you plan your CML meeting schedule at EHA we have compiled a list of CML related sessions for your convenience. You can look forward to an exciting scientific program and a highlight from the iCMLf: A first sub-analysis of the iCMLf CML and COVID-19 CANDID data will be presented as a clinical poster during EHA.
We are looking forward to seeing you live in Vienna or online!
EHA 2022 Hybrid Congress – Overview of CML sessions available
The Scientific Working Group Session ELN-EHA-SWG for CML on June 10 from 9.45-10.45 CEST will be dedicated to further the understanding of the pathogenesis of CML with talks about Non-BCR-ABL1 molecular biomarkers of prognosis, mechanisms of stem cell persistence and disease progression.
During the Education Session 'Novel perspectives in MPN and CML' on June 12 from 8.00-9.30 CEST Elisabetta Abbruzzese will be talking about 'Safe pregnancy and healthy babies in CML'.
Download the full CML session overview to see all CML sessions
Updates will follow as soon as they become available.
View the full EHA program here
Remember that the early-registration deadline is May 31, 2022.
iCMLf CANDID data will be presented during poster session – Sub-analysis of patients with COVID-19 and CML in TFR
We are delighted to share that a first sub-analysis of the iCMLf CML and COVID-19 CANDID data will be presented by Professor Timothy Hughes during the Poster Session on Friday, June 10 (16.30-17.45 CEST).
COVID-19 in patients with chronic myeloid leukemia in treatment-free remission: Disease-severity and impact on TFR status (Poster no. 701)
The iCMLf CANDID study represents the largest global cohort study to date characterizing COVID-19 in CML patients. This sub-analysis of the CANDID study aimed to evaluate the outcome of SARS-CoV-2 infection in CML patients in treatment-free remission (TFR) and assessed any impact on maintenance of TFR.

Learn more about the iCMLf CANDID study here

We look forward to sharing more details during the Poster Session.