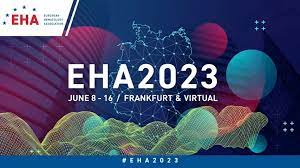 Getting ready for the EHA Congress -
Overview of CML sessions
There are only a few weeks to go until the 2023 Congress of the European Hematology Association (EHA). The congress will be held as a hybrid meeting in Frankfurt:
June 8-11: Live streamed program
June 14-15: Virtual days
To help you plan your CML meeting schedule at EHA we have compiled a list of CML related sessions for your convenience.
EHA 2023 Hybrid Congress – Overview of CML sessions available
The Education Session on CML chaired by Dragana Milojkovic (UK) on June 9 from 8.00-9.30 CEST will discuss what we can learn from single cell studies in CML, how to improve eligibility and success of TFR in CML and also late line treatment in CML.
The Scientific Working Group Session ELN-EHA-SWG for CML chaired by Jane Apperley (UK) on June 9 from 9.45-10.45 CEST will be dedicated to therapeutic opportunities of allosteric BCR::ABL1 inhibitors, dissecting phytogenetic trees in CML and drug profiling for CML blast crisis.
There will also be exciting oral presentations, e-posters, poster presentations and abstracts on CML.
Download the full CML session overview to see all CML sessions
View the full EHA program here
We are looking forward to seeing you live in Frankfurt or online!