16th Annual John Goldman Conference on CML: 

Insights into biology and treatment of CML
From September 4-7, 2014 around 523 key clinicians and researchers from 45 different countries gathered in Philadelphia during the 16th John Goldman Conference on CML to discuss progress in the biology and therapy of CML. The conference, co-sponsored by the iCMLf and the European School of Haematology, again presented latest research findings from both a biological and a scientific perspective: "I was honoured to chair this premier CML meeting and it is amazing to see what we can achieve if clinicians and scientists with a strong CML focus bring together their expertise and jointly discuss their recent research results." said Professor Jorge Cortes who chaired the meeting together with Professor Tessa Holyoake and Professor Tim Hughes.
The distinguished scientific program included various special lectures, scientific sessions, and workshops for non-clinical scientists.
Two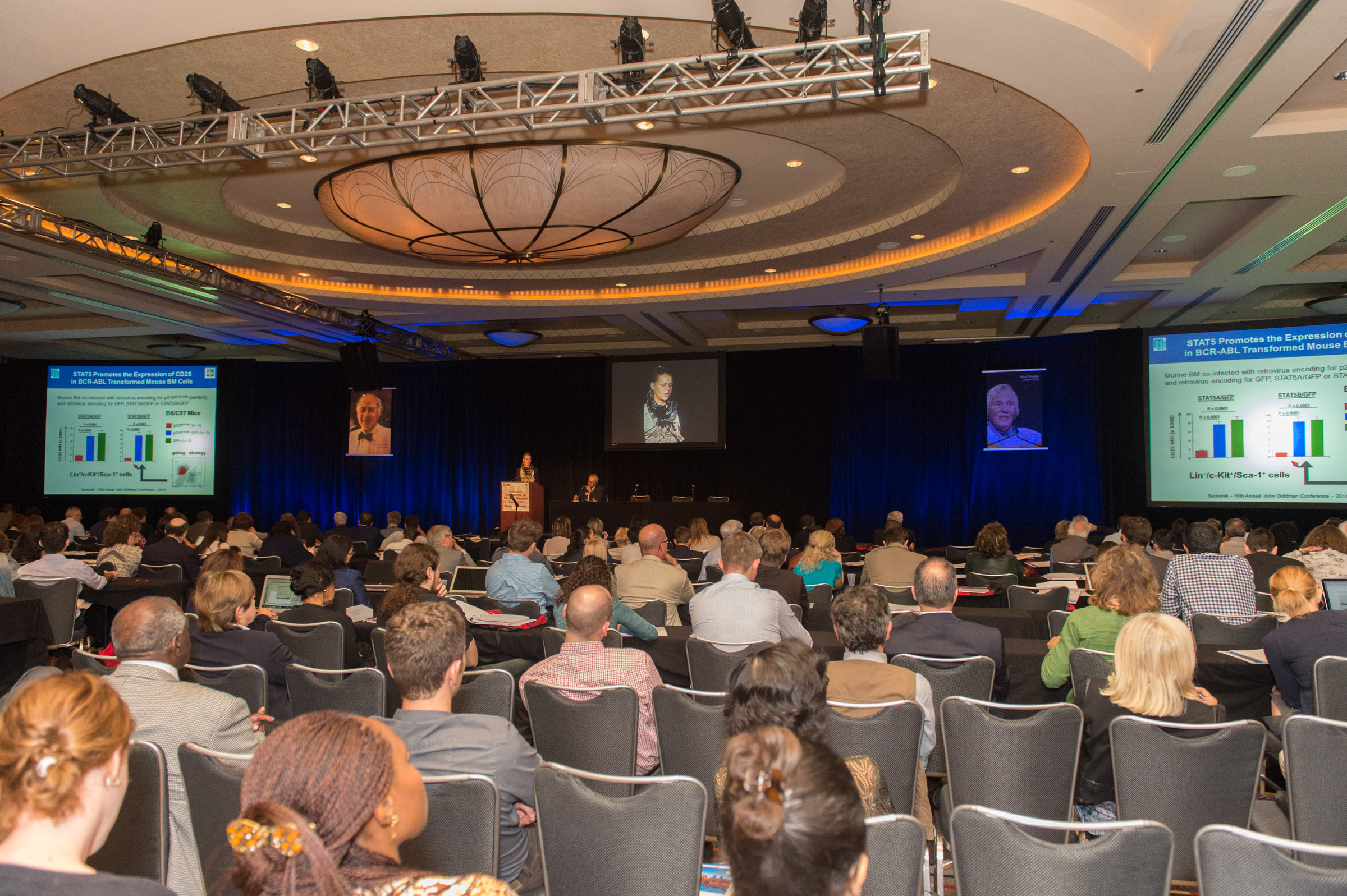 satellite symposia were held; one looking at similarities and differences in chronic myeloproliferative neoplasms and the other gave an overview of the practical aspects of monitoring in CML. This session was so popular there was standing room only! Topics during the scientific sessions included; the leukemic stem cell, microenvironments and epigenetics, molecular biology, early new targets/agents for CML, mechanisms of resistance, monitoring, standardization and mutation assessment as well as the safety of TKI therapy. A list of all abstracts presented during the brief oral communications and the mentored clinical and biology poster walks are available online here.

iCMLf 2014 prizes awarded during award ceremonies
At the 16th Annual John Goldman Conference on CML the iCMLf awarded the Foundation's 2014 iCMLf medals. The 2014 Janet Rowley Prize recognises Professor Owen Witte's outstanding contributions in fundamental CML research such as the discovery of the tyrosine kinase activity for the ABL gene and the demonstration of the BCR-ABL oncoproteins in leukemia. The inaugural John Goldman Prize was presented to Professor Rudiger Hehlmann recognising his important contributions to clinical management that have improved the outcomes for CML patients globally.

'John Goldman Fun Run'
On Sunday morning it was an early start to the day for some attendees who ran with colleagues and friends at the inaugural 'John Goldman 5k Fun Run'. A special thank you goes to those who donated to the iCMLf and received a JMG Run T-Shirt (whether you ran or not!). We raised over $1,500 and this goes directly to iCMLf programs increasing access to education, diagnostics and treatment in emerging economic regions.

If you would like to donate to the iCMLf please click here

Photo Gallery
View the ESH iCMLf Photo Gallery here (password cml2014)