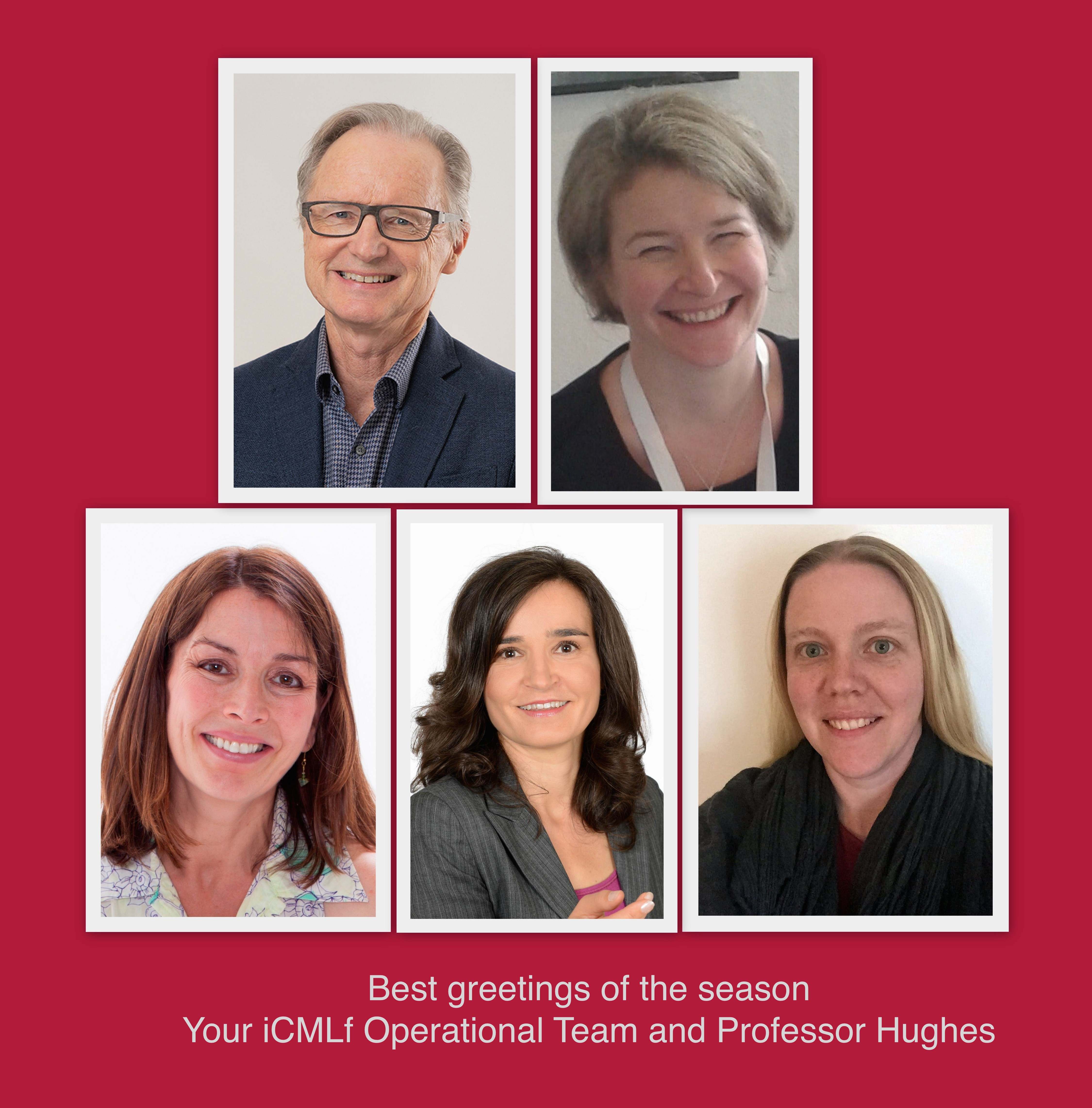 December 2021 - From all of us at the iCMLf we wish you a safe healthy and happy holiday season.
As another eventful year comes to an end we would like to take the opportunity to reflect on our work and thank you for your support for the Foundation's activities and programs over the last 12 months.

It's people working together that make the CML community so unique, and we thank all our funders, partners and supporters.

We with you the very best greetings of the season and are looking forward to working with and for you, in the New Year.
1. International Research Collaborations

To help physicians confidently treat people with CML during the pandemic, the iCMLf has collected and analysed COVID-19 cases among patients with CML globally. With over 1,000 cases reported by >190 physicians from 59 countries the iCMLf CANDID study study represents the largest cohort of CML patients with COVID-19. An analysis based on 642 cases looking at various risk factors for clinical outcome was presented at the American Society of Hematology (ASH) Meeting in December and a publication of the final data is expected early next year.


The iCMLf Genomics Alliance has continued to pick up speed and has hit the first milestones to combine the wealth of genomic information in local CML research. Over the last year, the iCMLf Genomics Alliance has partnered with the HARMONY Alliance Big Data project to initiate a project on Clonal Hierarchy in CML. From the 19 Alliance members, 10 research groups are now ready to submit data. More than 1,000 samples with genomic data have been identified to date.


The iCMLf TFR Alliance has evolved into a global network of 41 collaborators from 21 countries aiming to enhance successful TFR. This year we moved to create a global TFR Registry aiming to generate actionable biomarkers and predictors of TFR. Initial seed funding of US$100,000 was awarded to the Swedish CML Registry Group to establish the registry. A first meeting was held to define priorities for the TFR Registry and a survey defining the registry parameters and outcomes distributed. (Please email info@cml-foundation.org if you would like to participate in this survey)


2. Global Best Practice Education & Information
On World CML Day we launched the iCMLf Knowledge Centre.. A new educational service for physicians and scientists managing CML. 27 speakers from 16 countries share their knowledge and expertise. So far 2,250 views have been recorded.


The iCMLf Conversations on CMLbeginning in June 2020, these conversations have developed into another key educational program. Over the past year, we have hosted 16 live expert discussions with 33 experts involved and 682 live participants. All expert discussions are available to view on-demand on the iCMLf website and the presentations have been viewed more than 2,700 times so far.

The last conversation for this year is

tomorrow

(Thursday, December 23rd) at 13.00 Central European Time. Join us for the CML highlights from ASH with Professor Susan Branford and Associate Professor Charles Chuah.

Join via the link: https://us02web.zoom.us/j/84231232033

For more information and other time zones click here
In 2022 we will continue to support the global CML community through the pandemic with services like the COVID-19 Hub and to provide best class CML education with additional modules of the iCMLf Knowledge Centre and more monthly iCMLf Conversations.

We will also further drive our International Research Alliances and welcome anyone who would like to contribute. A cure for CML remains the long-term goal of the Foundation.